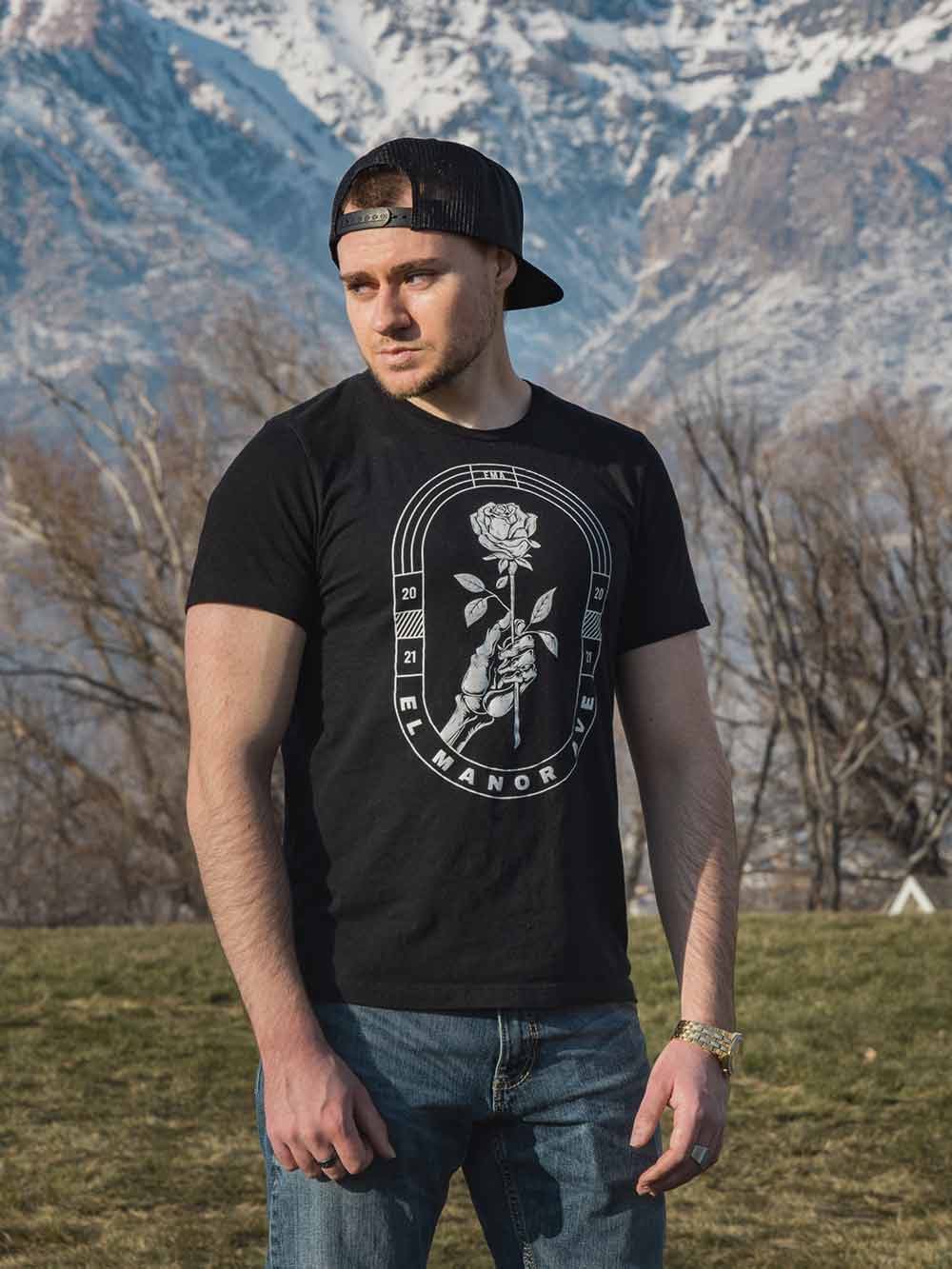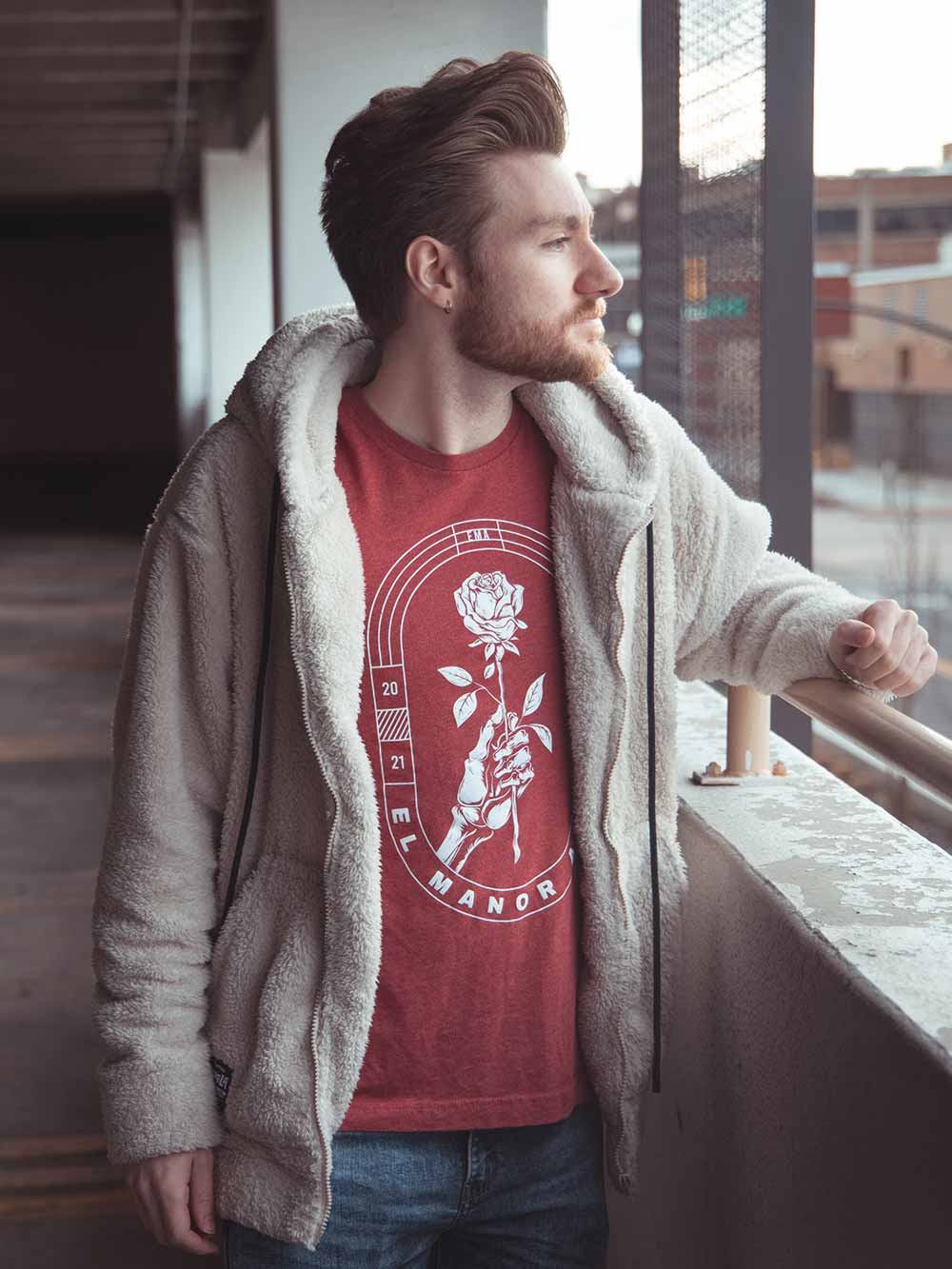 Rose - Men's Graphic T-Shirt
'Til death do us part. This original fitted men's graphic tee features an emblem of a skeleton holding a rose. Inspired by our love for roses and sugar skulls, we hope you love this rose t-shirt as much as we do.
This premium quality rose graphic tee is fitted to look slim and designed for men's/unisex wear. Our shirts look great and feel soft, unlike the shirts some other companies sell that fit like trash bags. Our super-soft fabric is light and comfortable for all-day wear, even while at work or out hiking.
To ensure that your shirt and print lasts as long as possible, please follow our care instructions below.
52% Cotton 48% Polyester [Red and Orange]
90% Cotton 10% Polyester [Black]
Machine Wash Cold with Like Colors
Turn Inside-Out
Tumble Dry Low
Do Not Iron
Do Not Dry Clean
Assembled in Nicaragua or Honduras with U.S.A. components. No sweatshops. Printed in Uintah, Utah exclusively for El Manor Ave.
All orders will be processed and sent out from El Manor Ave in Washington within 1-2 business days.
Smaller orders are shipped through USPS First Class (3-6 business days) at a discounted rate. For larger orders, items ship UPS (2-3 business days). Free shipping available at $100 in your cart. We don't ship internationally (yet). All orders provide tracking numbers.
All purchases from El Manor Ave come with 30-day returns. You will have 30 days from the delivery date on your order to request a return. Items must be returned like-new and undamaged. To request a return, please contact us. Unauthorized returns will not be accepted.
For full terms and conditions, please visit our Returns Policy page. Request a return to get started.
Rose graphic t-shirt
The rose shirt
This men's rose graphic tee is our best-seller. If you're looking for a high quality rose print graphic tee, then this is the product for you! We have a black rose shirt, red rose shirt, and orange rose shirt available.
Plus, our shirts fit women as well! Whenever customers wear the rose tee, they receive compliments. With this shirt, you'll be helping a small business while looking amazing.
The story behind the rose t-shirt
This shirt is loosely inspired by our love of roses and sugar skulls. Our great grandparents had a beautiful rose garden in their backyard in Oregon, featuring some of the most vibrant orange roses we've ever seen. Since then, we've always found roses to be extremely beautiful.
The skeleton hand is inspired by our sugar skull collections, which are imported from Mexico. We've collected sugar skulls for many years, and this shirt perfectly captures our love for both elements in a simplistic and elegant way.
Sourcing information
El Manor Ave sources the base shirt material from manufacturers who do not use sweatshops. All materials come from businesses in compliance with the Fair Labor Association and the Worldwide Responsible Accredited Production. No cotton supplied to our manufacturers come from China's Xinjiang Region.
All printing is completed in the state of Utah in the United States of America.
Premium graphic tees
Our graphic t-shirts are made of high-quality and comfortable materials. The base shirt is side-seamed and tailored for a more fitted look.
This El Manor Ave Rose tee is printed in Utah with a light-weight plastisol that stands the test of time. It features a full front graphic of a skeleton hand holding a rose in white. The neck tag is also printed for increased comfort (no itchy tags!).
Our graphics tees are premium quality and long-lasting, without the premium prices. With our shirts, you don't have to worry about the graphic cracking or fading after a few washes. Our screen prints are made to last. That's the El Manor Ave promise.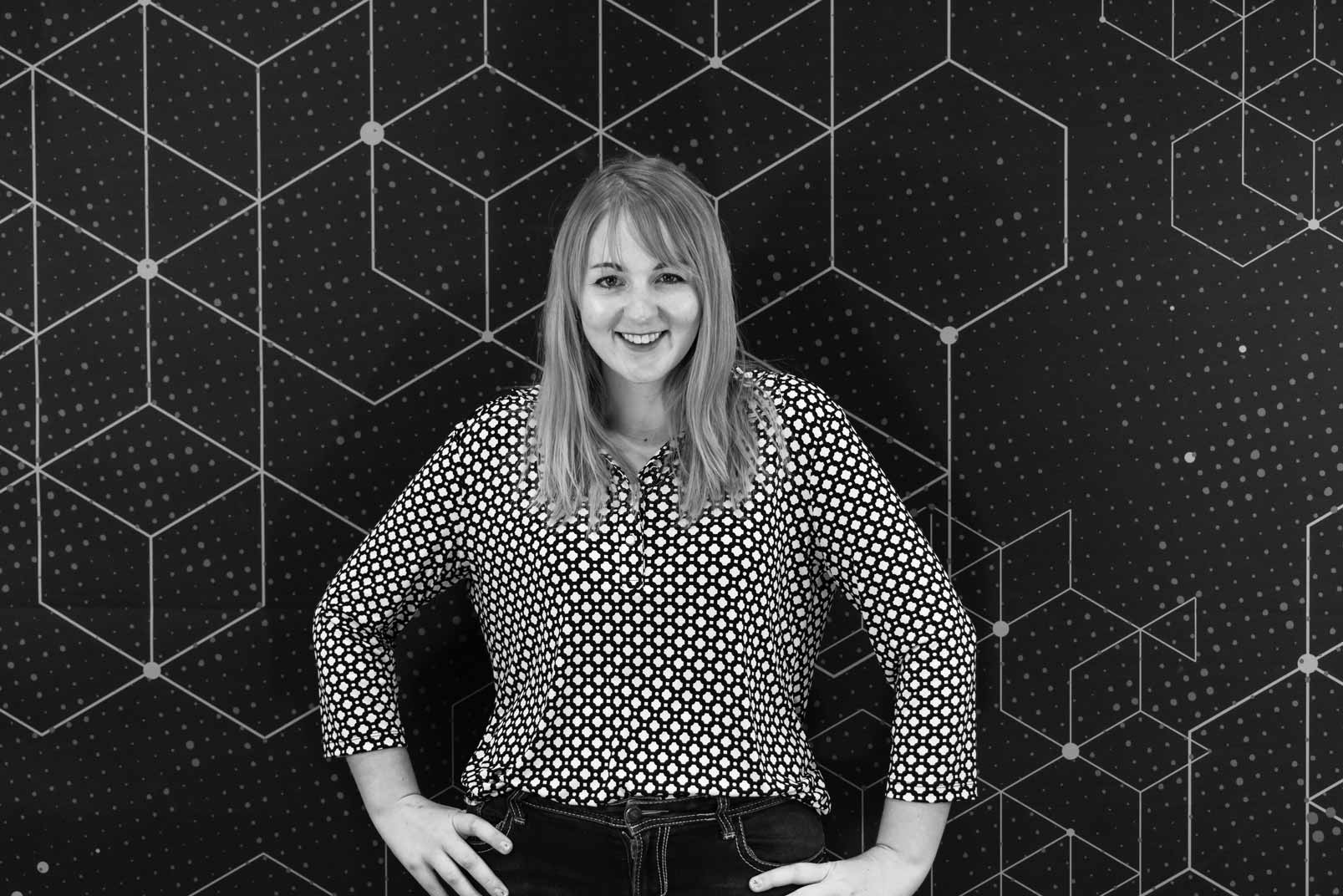 Chelsea Simar
Meet the artist
The Rose Tee was designed by Chelsea Simar for El Manor Ave in 2021. Chelsea took our ideas for the rose t-shirt and transformed it into a stunning piece of art that we're proud to wear.
"Love ain't dead. I created this shirt in celebration of all forms of love from beyond the grave."
You can see all of Chelsea's graphic design and illustration work on Instagram @chelseasimar.art.
About El Manor Ave
We are a men's clothing brand located in Washington state, USA. El Manor Ave was founded by two brothers in Utah in 2021. For more information about the brand, visit our About us page.