The story of El Manor Ave
Learn how El Manor Ave ® came to be and how it relates to overcoming our own personal struggles.
I've been laid off twice. I was tired of feeling like my life was out of my control. So, I decided to start my own business so that I can control my own future.
The brain fog and overwhelming pressure from my mental health made me realize I needed to make an opportunity to live on my own terms.
Products made for you
Are you tried of spending $50 on a single t-shirt? Do the shirts from the "other guys" fit you like a trash bag? At El Manor Ave, we only sell clothing that we would personally wear (and we do!). We're committed to providing unique graphic designs and quality materials.
El Manor Ave is a clothing brand specializing in graphic t-shirts, hats, and more. All of our graphic designs are original and not found anywhere else.
Our clothing is fitted and durable, built to last. Our graphic prints are made from the highest quality light-weight plastisol and printed by experts. These prints will last for the life of the t-shirt and have gone through our own rigorous testing. Despite our affordable pricing model, our shirts are made to last.
This is only the beginning of our story. We can't wait to share everything we have planned for the future.
Chase Charaba, Co-founder
I've been laid off twice...
When I started working full-time in 2019, I couldn't have ever imagined that I'd be laid off twice in three years, both due to no fault of my own. 
Being on unemployment SUCKS. Trying to find a new job is stressful and it just feels wrong to have to sell your skills. I was tired of feeling like my life was out of my control, like I had no real power in whether I could live comfortably or not. Like I had no future. I don't want to work 9 to 5 my entire life, building someone else's future, just to be tossed aside again. 
So, I decided to start my own business so that I can control my own future. 
Chase Charaba, Co-Founder
About Chase Charaba
Chase is an all-around creative with way too many hobbies and interests. A writer and digital marketer by trade, his biggest dream in life is to publish his novels and inspire the next generation of readers and writers.
He also enjoys photography and creating videos for his various YouTube channels. When not creating, he collects and listens to vinyl records and loves exploring the natural world around us.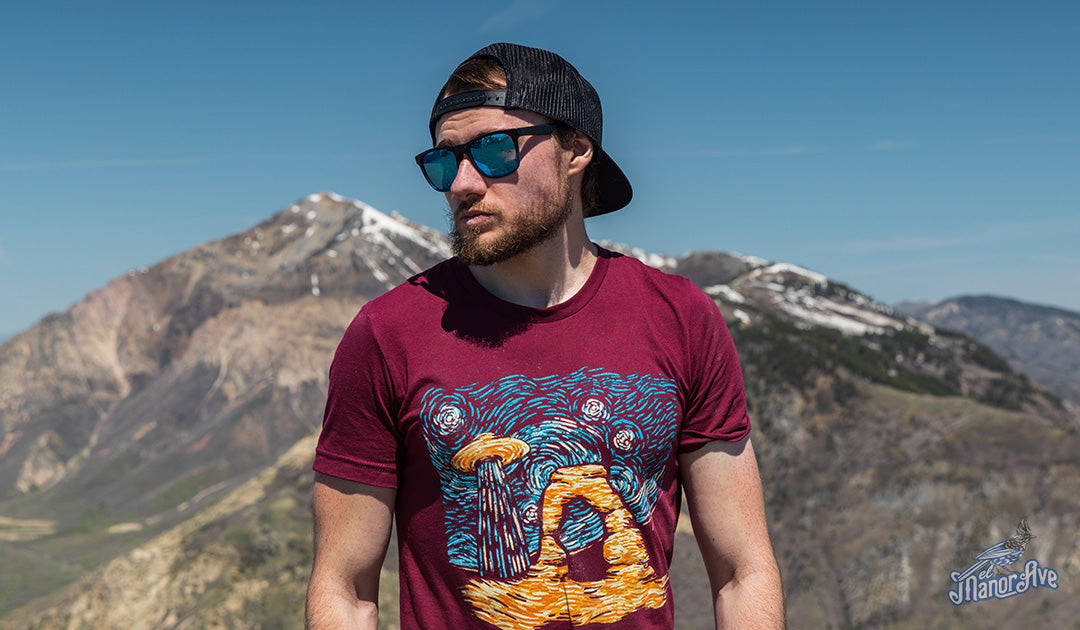 Justin Charaba, Co-Founder
I dropped out of high school because of my social anxiety...
The brain fog and overwhelming pressure from my mental health made me realize I needed to make an opportunity to live on my own terms.
I've had this dream of creating my own clothing company since 2014. Now I'm finally making it reality. 
Justin Charaba, Co-Founder
About Justin Charaba
Justin is a multitalented individual with many interests. He enjoys athletic hobbies such as running, bodybuilding, hiking, and many other sports. Music is another interest of his, and Justin plays bass, drums, and guitar, although bass is his favorite.
Other aspirations in his personal life include being an advocate for mental health, helping others live their optimal life, and spiritual coaching.
Starting a clothing company has been one of his dreams since he was in 8th grade, and now it's finally a reality.
The idea
Brothers Chase and Justin Charaba set a goal to open a business one year from the day they settle on a name after many years of wanting to.
Our first year
El Manor Ave officially opens in October 2021 after many months of planning and building our website. We attend our first in-person events.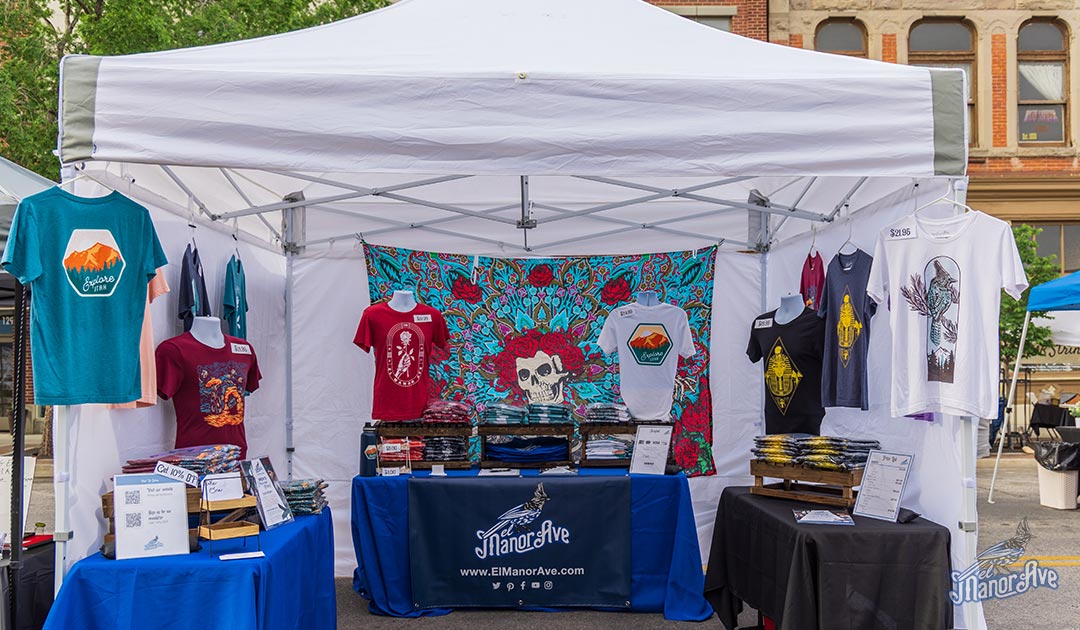 Finding our footing
We focus on growing our social media audience through content creation while committing to being a weekly vendor at a local farmers market for the entire summer.
2020
The idea
Hi, we're El Manor Ave. In 2021, brothers Chase and Justin Charaba created El Manor Ave after many years of wanting to start our own business. By the time El Manor Ave launched, we had already been working on the brand for a year, since an initial planning in late summer 2020, waiting for the right moment.
We felt out of touch with menswear. For many years we had struggled to find clothing that worked for us, and met our budget. It seemed like anytime we fell in love with a product, it was discontinued by the major brands or suffered from a dramatic reduction in quality.
No matter where we looked, nothing fit our style perfectly. So, we decided to stop searching and create our own brand with quality products in-line with what we would personally wear.
Together, we've created a unique set of products you can wear anytime, all without breaking the bank.
We weren't sure how to start a business, how we'd fund it, or if it would even succeed. But, we knew it was too important to give up. So, after much trial and error, we launched our business in late 2021.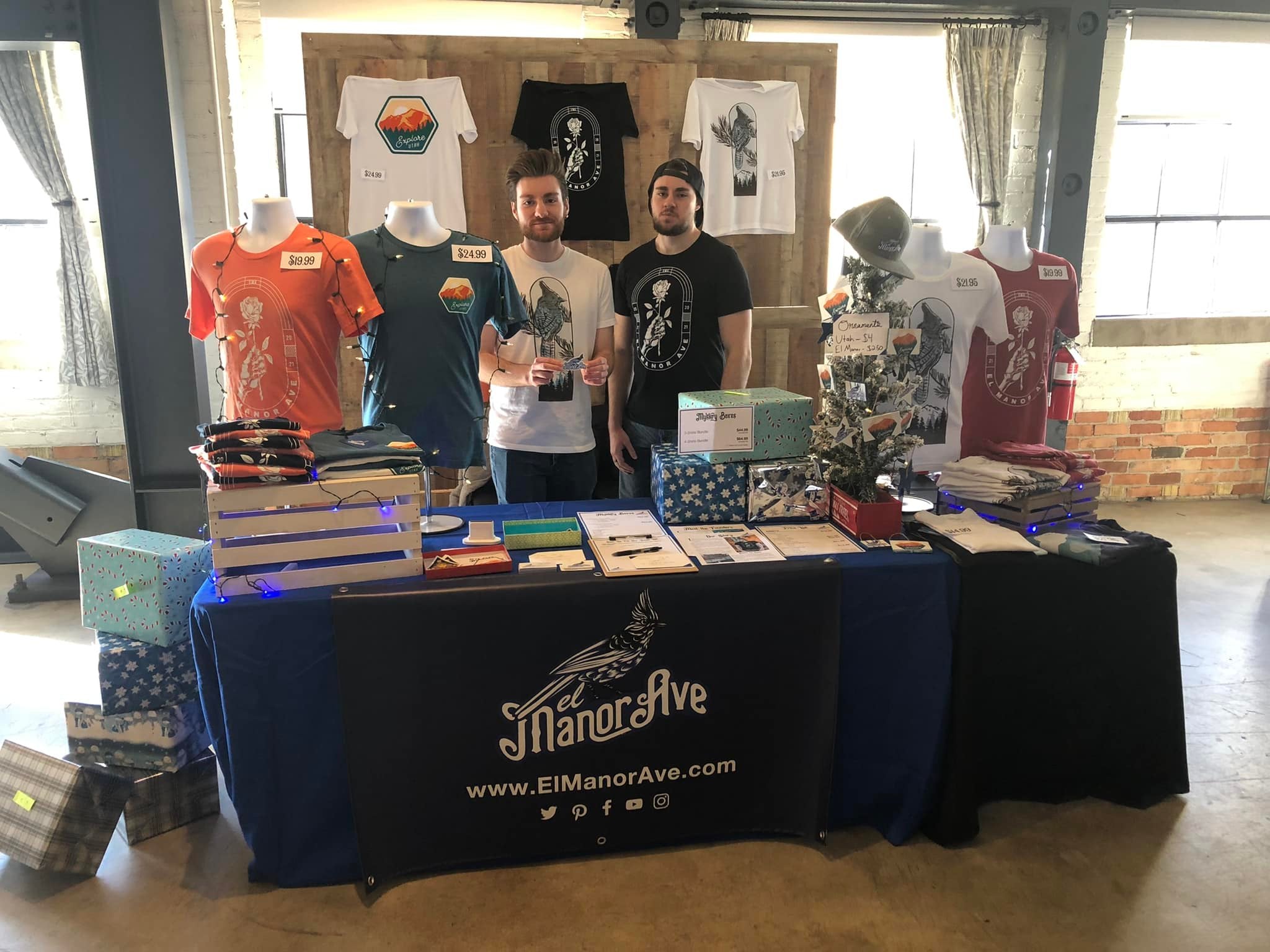 2021
Our first year
With a few thousand dollars saved up from working a full-time job for a marketing agency, we embarked on our new adventure. We began to study everything we could about starting a business, including registering an LLC. With Chase's skills in marketing, we created our own Shopify store without outside help.
We also reached out to one of Chase's co-workers, Chelsea Simar, to design the logo and our initial graphic t-shirt designs.
Not everyone understand why we'd want to start our own business. After all, we had no experience in management, let alone starting something like this from nothing. But, we pushed ahead, overcoming many obstacles.
When we launched, we operated the business out of a guest bedroom in our parents' basement.
We attended our first-ever in-person event, the Indie Ogden Bizarre, to market our business on our opening day in October 2021. We learned from our mistakes at the first event and continued to grow and become more comfortable with talking with customers and sharing our vision at events throughout November and December.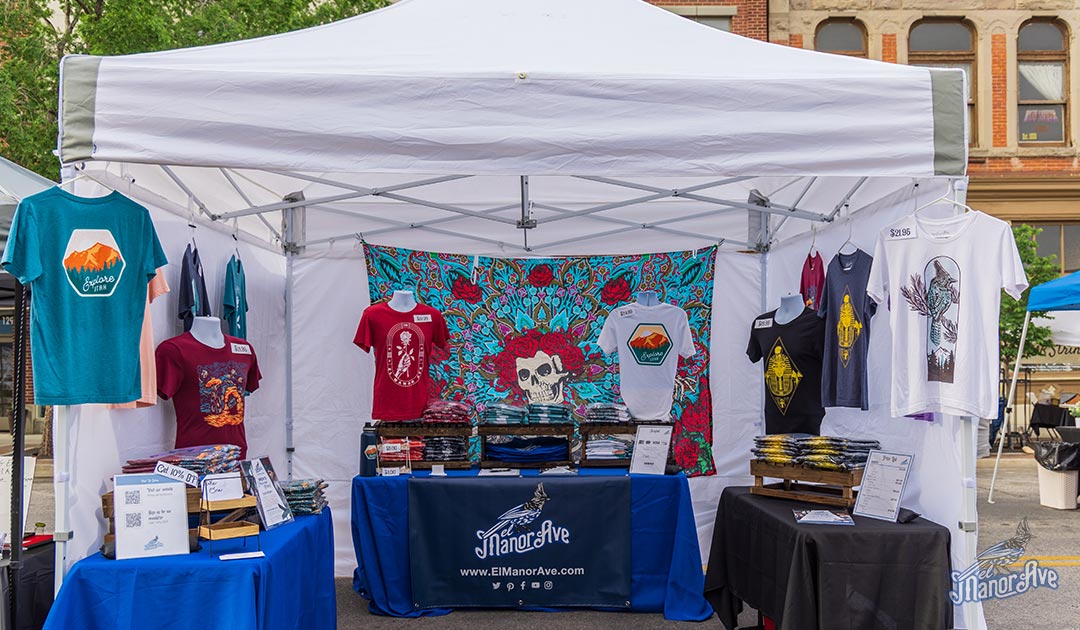 2022
Finding our footing
In 2022, we invested in new opportunities to learn and grow our business. After taking a few months off from in-person events to focus on content creation, we once again signed up as a vendor for the Indie Ogden Bizarre in April. A month later, we committed to being a weekly vendor at Farmers Market Ogden from Memorial Day through September.
Spending our Saturdays waking up before sunrise, driving to Ogden, Utah's Historic 25th Street, setting up our canopy, and selling our goods in the Utah heat (and occasional storm) was a learning experience. While vending at the market was tough, we loved meeting so many members of the local community, supporting other small businesses, and sharing our passions.
2022 also saw us join a group business/creator coaching course, where we were able to connect with other small business owners and artists.
After a busy summer, our family made the decision to return home to Washington state, putting the business on hold. We closed our website and began the process of domesticating the business in the Evergreen State.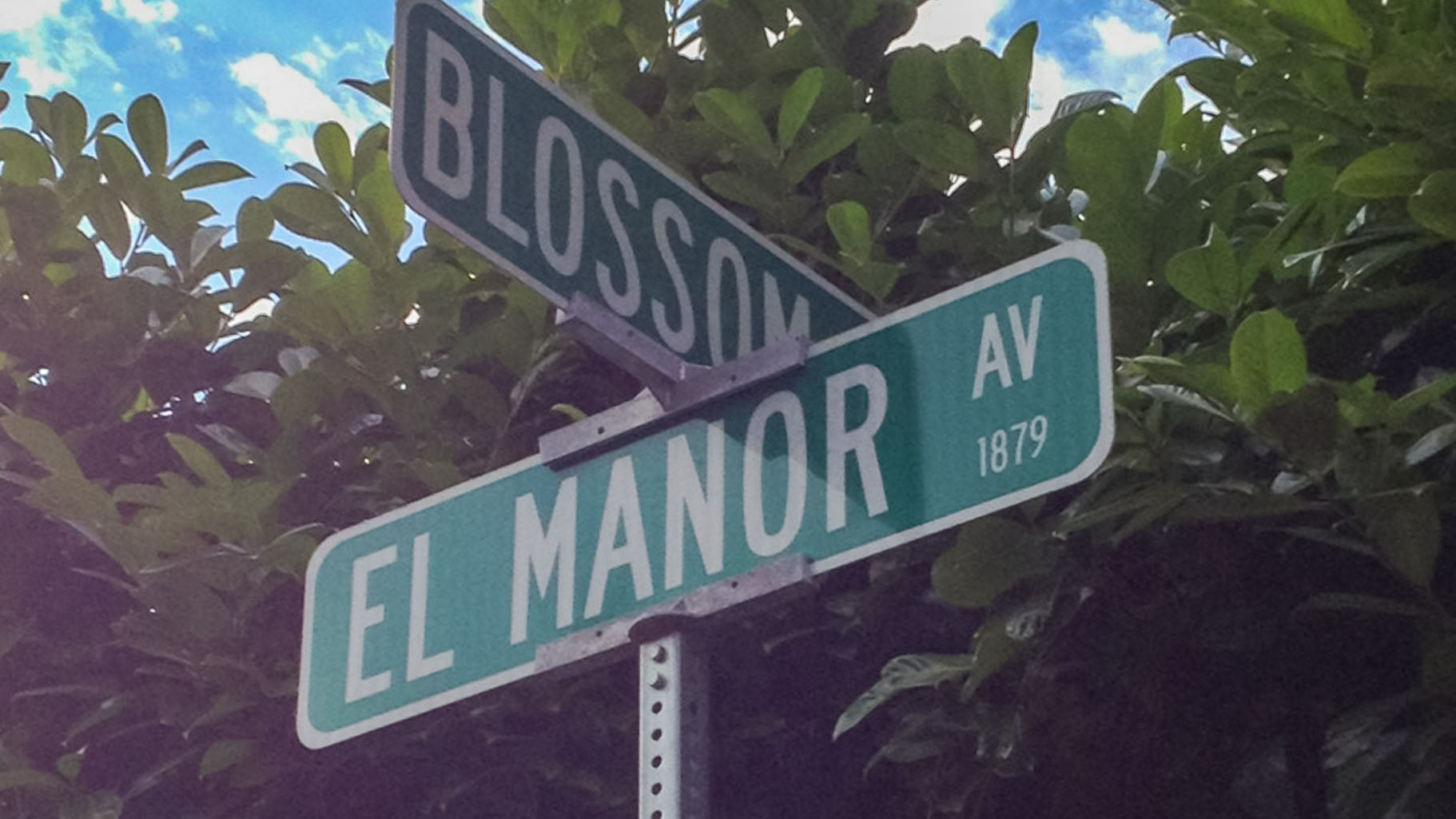 The meaning behind the name
Choosing the right name for a business is one of the most important steps in making your dreams a reality.
We spent time using business name generators and coming up with combinations that fit the Steller's jay, an element of our brand since its inception. Nothing really struck us as the right name for what we wanted to accomplish. It didn't take long to settle on El Manor Ave, the street our great grandparents lived on in Oregon.
The Steller's jay emblem matches the name perfectly. After our great grandma passed away in 2008, we began to notice Steller's jays, her favorite bird, watching over us while we explore the world. Naming the business after the street they lived on is just another way to honor them and their legacy, alongside our spiritual connection to their memory.
Based in Washington State
Inspired by the Pacific Northwest
While El Manor Ave was founded in Utah during our brief four-year period living in the Beehive State, we are native Washingtonians.
We are proud to be a local western Washington business and to help other small businesses and artists. The PNW is in our blood, and it inspires our designs and products.
We can't wait to meet you at an event in the Evergreen State.
Contact us:
Email: Info@ElManorAve.com
Phone: (877) 356-2667 (not monitored 24/7. Please leave a voicemail).
Mail: 5729 Littlerock Rd SW, Ste 107 PMB#136, Tumwater, WA 98512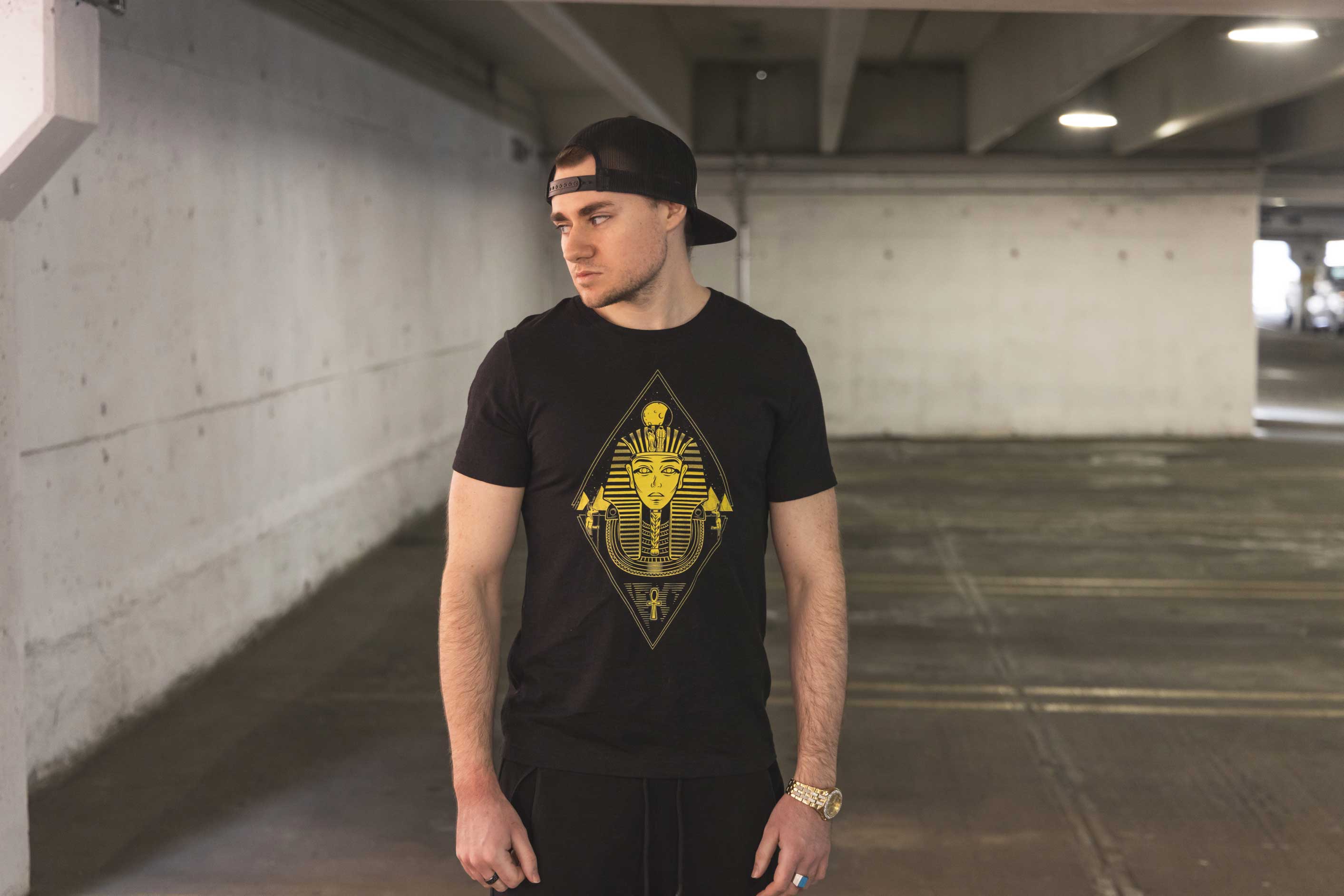 Customer review
Purchased a T-shirt for my partner and it fit him true to size. The actual T-shirt looks exactly like the photos. I am so happy with my purchase!
Stephanie T.